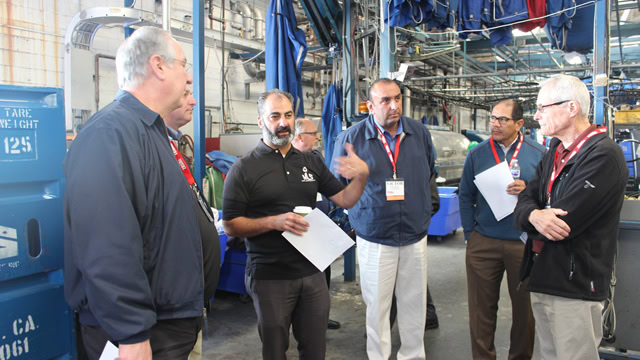 (ABOVE) CUSTOMER SERVICE MANAGER VATCHE KOUYOUMDJIAN LEADS A GROUP OF PRODUCTION SUMMIT ATTENDEES ON A TOUR OF THE MAGIC LAUNDRY SERVICES' THREE-PLANT COMPLEX; BELOW, GERY KWIATKOWSKI, MORGAN SERVICES INC., PRESENTS A CERTIFICATE OF APPRECIATION FROM TRSA TO MAGIC OWNER/CFO HARRY KERTENIAN. GENERAL MANAGER GARO JEKMEIAN STANDS AT RIGHT.
Two busloads of roughly 100 TRSA Production Summit attendees marveled at the sight of what Owner/Operator Harry Kertenian and his team at Magic Laundry Services Inc. have accomplished in barely 15 years – the successful launch of three distinct hospitality plants on a single site nestled in a residential neighborhood in Montebello, CA, east of downtown Los Angeles.
"We bought it and gutted it," said Magic Customer Service Manager Vatche Kouyoumdjian, speaking of the origins of the plant complex now located in a former industrial facility. "We did it all from scratch," added Kouyoumdjian, who led one of the Feb. 22 TRSA tours of the three plants. The laundry complex that now occupies the site totals nearly 100,000 square feet and is capable of processing well over 100 million lbs. per year.
This correspondent joined a group of about a dozen attendees on the tour that began – naturally – with plant No. 1.
This 35,000-square-foot plant includes several 900 lb. and 125 lb. Ellis machines, plus two Smartex washer/extractors from Tolkar, a Turkish manufacturer; six B&C pony washers and 10 B&C pony dryers used mainly for dry-cleaning operations.
Plant No.1 also has two Kannegiesser ETECH tunnel washers installed in late 2015. Each is equipped with 13, 130 lb. modules. These machines are currently processing 100,000 lbs. a day and are capable of more when demand increases during the peak summer season, Kouyoumdjian said. Goods move from soil sort via a Ryco rail system with an automatic tracking system provided by Softrol Systems Inc. A key takeaway from this tour is the way that Magic has thrived on deploying a diverse range of equipment and software to service its array of hotel customers based in a region stretching from metro Los Angeles to San Diego and Palm Springs, CA.
Kouyoumdjian notes that the business began with a single Hypro ironer rebuilt by Talley Machinery. Today there are seven ironers in plant No.1; each has the ironer waxing specifications posted in both Spanish and English, according to a Tingue representative who was stationed along the tour route.
The 38,000-square-foot, plant No. 2 opened in 2011. It too was upgraded and expanded in 2015. It's equipped with a Softrol tracking equipment with a full soil sort rail system, said Matt Lewis of Softrol. He noted that as the company has grown, the vendor has expanded its services to accommodate the expansion. "They're rocking and rolling," Kouyoumdjian says, noting that the sorting system and staff are processing 8,000 lbs. an hour.
Plant No. 2 also has two CBW tunnels from Pellerin Milnor Corp. Both are equipped with eight, 150 lb. modules. We also see a bank of 10, 300 lb. Milnor dryers. There are eight washer/extractors here, including Smartex, and B&C machines, with a bank of eight Milnor pony dryers for specialty items.
On the finishing side, we see five Chicago  ironer lines, with Chicago Dryer Corp. feeders on the front and folder  stackers on the back end. One ironer is also a Tolkar model. We see five Chicago small-piece folders as well. As we pass through this area, Kouyoumdjian notes that on occasion, Kertenian likes to work for brief periods on the feeders. This way, he can see for himself how they're operating. "He'll tell you how he can feed 800 towels an hour," Kouyoumdjian says. "He likes to talk about that."
Moving to the newest facility, plant No. 3, which opened in fourth quarter of 2017, we see carts of clean linens with a small piece of colored mesh material on top. This cloth is part of a color-coding system for individual hotel customers. It's designed to help staff keep track of customer-owned goods (COG). Magic processes primarily COG hotel linens, although they also process food-and-beverage (F&B) goods for restaurants that are linked to their hotel customers.
Plant No. 3 has a Kannegiesser ETECH tunnel with 13, 130 lb. modules, A second CBW from Kannegiesser ETECH is en route with installation and operations slated for mid-April. We also see four Kannegiesser ETECH ironer lines with four Kannegiesser ETECH small piece folders . Cory Acton, a Kannegiesser ETECH representative, says the tunnel is processing at roughly 4,000 lbs. an hour, using an average of 0.5 gallons per lb. Goods transfer between modules every 110 seconds. There's also a bank of five, 132 lb. Kannegiesser ETECH dryers. One smaller dryer is used for items that only require a break up of the "cake" of clean wet linens, rather than drying, to facilitate feeding into the ironer. This dryer rotates but it doesn't provide heat, so it saves energy, Acton said.
Larry Erickson and Tony Schult of Kannegiesser ETECH, described the sorting system in Plant No. 3, which uses new eVue software. Staff at eight sorting stations are now processing 8,500 lbs. of soil goods an hour. The system can store up to 75, 132 lb. slings in a ceiling area prior to processing.
After the tour, attendees from each of the small groups gathered in a conference room for a brief question-and-answer session with Kertenian and Vice President Garo Jekmeian. One question centered on how Magic acquired its land. The property was purchased in separate lots as the company needed more production space, Jekmeian said. "A fourth is coming," he quipped.
Another questioner asked about Magic's efforts to get rebates for energy-efficient equipment upgrades, such as lights, ironers, tunnel washers, etc. "There's a lot of rebate money that the government has, or maybe the state has," Jekmeian said. "All you have to do it ask; I'm sure you can get it." Magic has had to provide significant background materials to demonstrate savings, but Jekmeian said the requirements to qualify for rebate programs are reasonable.
Watch for follow-up coverage of other Production Summit highlights.